Our container set is great for an active lifestyle, simply prep your meals at home, and then eat on the go. And our containers are made with microwave and dishwasher-safe PP, re-heating and washing are quick and hassle-free. Want to store your food longer? Our containers are freezer-safe, so you can keep your meals fresh for as long as you like.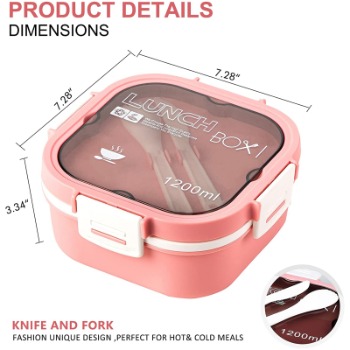 Product Specifications:
Material: PP
Dimensions: 7.28" x 7.28" x 4.33"
Weight: 0.93 lbs
Capacity: 1200ML/ 40 OZ
Features:
Healthy and Safe Material: Made of food-grade PP, non-toxic, Phthalate free; BPA free, can be put in Microwave&Freezer&Dishwasher. Great bento lunch box for outdoor, camping, work, office, school.

Keeps Salad Fresh: Designed with rubberized sealing ring on top lid. Can keep salad, food, fruit, snack fresh&moisture for a long time.

40 OZ salad bowl: –Salad container for lunch has 4-compartment tray(1x 7-OZ, 2x 4-OZ)for salad, fruit, snacks and vegetable. With a 3-OZ dressing container and built-In reusable fork & spoon.

Removable Tray - Movable compartments to keep lunch items, snacks fruits separated and fresh until ready to eat. It is convenient for you to taste and mix them up as you want.

Microwave and Dishwasher Safe : The food storage containers are microwave (Note: please open the lid) and dishwasher safe. Temperature resist from -20 centigrade- 120 centigrade. Convenient and save your precious time.
Note:
1.Please do not mix any juicy, liquid sauce with food in salad bowl before eating avoid leaking from ground layer to the top layer.
2.Method to Open and Close:
To Open: Press down the lid of the salad lunch box with one hand, and pull up the snap lock with the other hand at the same time.
To Close: Press down the lid of the salad lunch box with one hand, and press down the snap lock with other hand at the same time.
3.It would be much more appropriate to wash the lid, compartment tray, dressings container by hand to avoid distortion, while the salad bowl is available to be put in dishwasher for cleaning.
4.The spoon & fork is able to be put in dishwasher for cleaning.
5.Do not use temperature reaches up to 120 centigrade.