Looking for a practical and stylish container for your dough and vegetable salad?
Shopwithgreen Food Storage Container Serves as an excellent food storage product with a secure lid system to Help Keep Items Fresh and organized. Great for cut up fruit, salads, snacks and for at home and on the go.
Space saving Nesting design allows individual pieces to be stacked neatly together.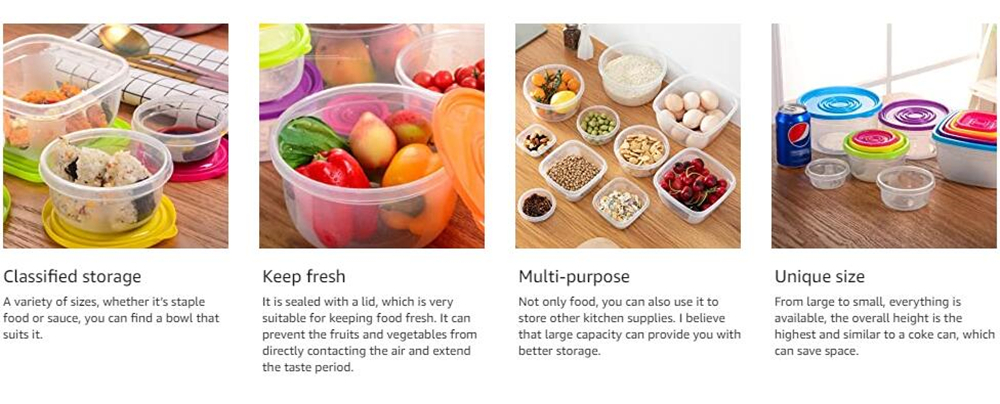 Features:
[Lockless Design & Easy-Access] Numerous locks make you spend a lot of time locking the lid, especially with so many containers. Lockless design makes locking the lid simple. These nest containers only need to be pressed to lock the lid. This allows you to quickly access stuffs. When you have a lot of work, you need efficient tools, otherwise you will be irritable.we solved the problem.

[Stackable & Space-Saving] Nesting design allows individual pieces to be stacked neatly together.Even if your cupboard is running out of space, you can still tuck it in.

[Easy-Find] Transparent appearance allows you to find your stored stuffs in a second.Different colors can be used for different types of food storage for easy distinction.

[Indoor and Outdoor Multi-Use ] Great for food/meal-prep, baking ingredients storage, fruits, vegetables, salads, snacks, delicatessens, nuts, or other non-food items. home or outing.

[Dishwasher/Microwave/Freezer Safe] Set includes 8 pack. The total capacity of the set is 671 oz, the largest container is 210 oz and the smallest is 12 oz.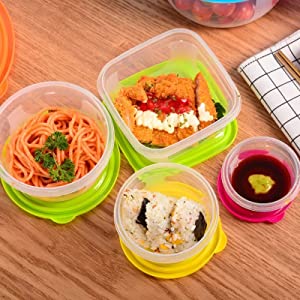 Easy to use at outdoors
When you go to a picnic, it is better to bring our bowl, it can help you store food well, and does not take up space, allowing you to have a comfortable outdoor experience~
We are committed to the concept of simple life, choose us, choose rainbow life
Whether you're hosting a family gathering at home or a picnic date, our food storage container is a must-have. Get your hands on this container today. Shop now.