Looking for a practical yet sleek container for your berries and other fruits? Shopwithgreen's berry keeper box containers are great for you! They are made of food-grade PP material, so they are BPA-free and safe to store fruit snacks, vegetables, and other fresh food items.
These containers come with leak-proof lids and colanders. Berries and the fruits on the bottom can stay as fresh and dry as those on top. And if you need to wash them before serving, the colander inside can be handy. With its practical design, it's truly a must-have.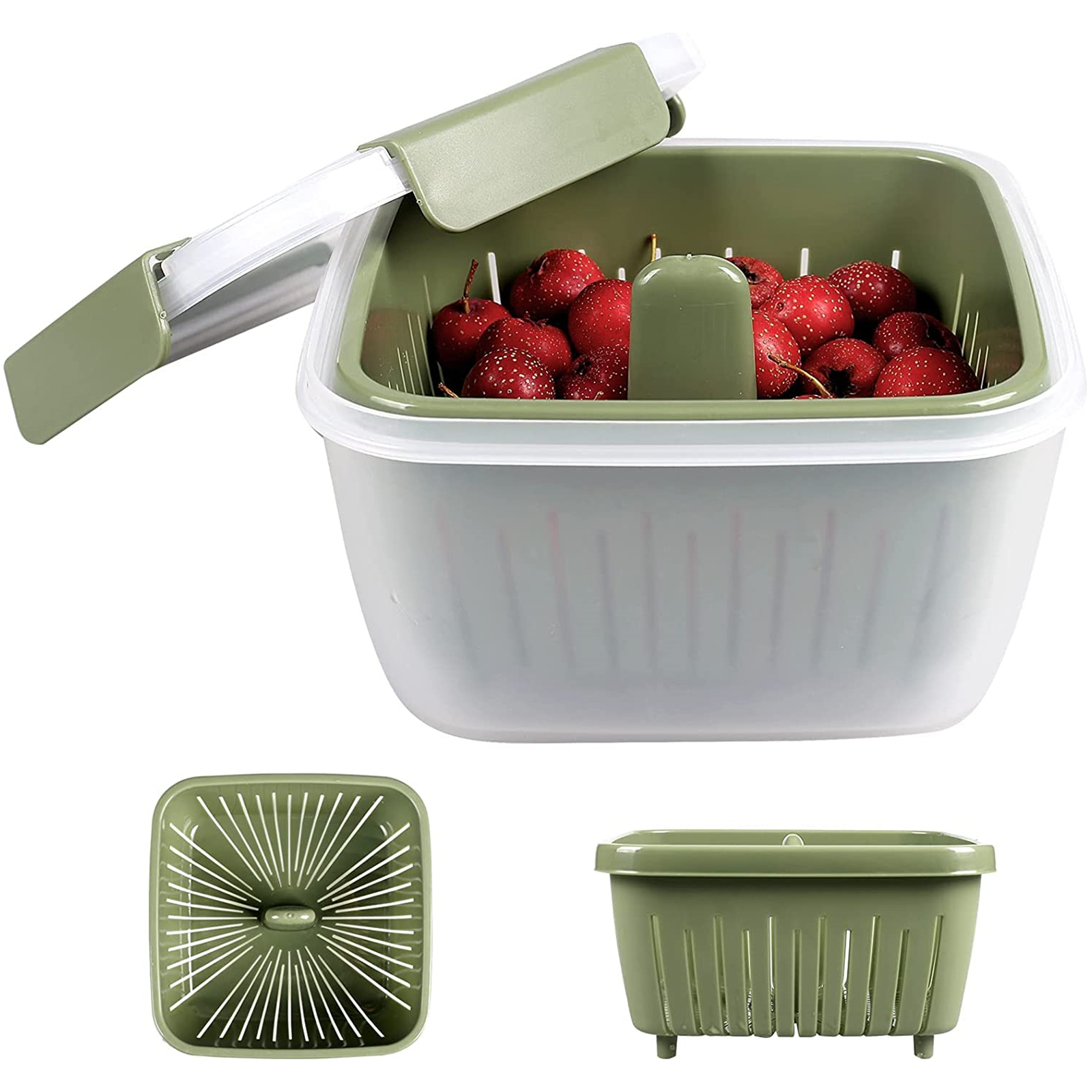 Basic information
Materials : PP materials. BPA free
Size : 17 x 17 x 10cm / 6.7 x 6.7 x 4.0 inches
Capacity: 1.6 quarts / 1.5 liters
Package : 3 in 1 fresh box
Features:
【Safe Quality for Food】Made of food-grade PP material, BPA-free.

【Suitable size】The 1.6 qt/1.5 L capacity is perfect for a pint of small fruits like berries, grapes, limes, strawberries, and salad ingredients like Cherry radishes, sweet beans, cherry tomatoes or chopped vegetables.

【Unique Multifunctional Design】These containers come with leak-proof lids and colanders. Rinse, filter and store the fruits in the container. Don't worry about water leakage, convenient to carry.

【Longer Preservation】Colanders feature elongated holes for fast draining and promoting proper airflow, so your produce will not retain redundant moisture and thus spoil. Keep your produce crisp and fresh.

【Great for Everyday Use】Safe to use in the refrigerators and dishwashers. Easy to carry for work, school, travel, picnic and sports exercise. Suitable for all ages.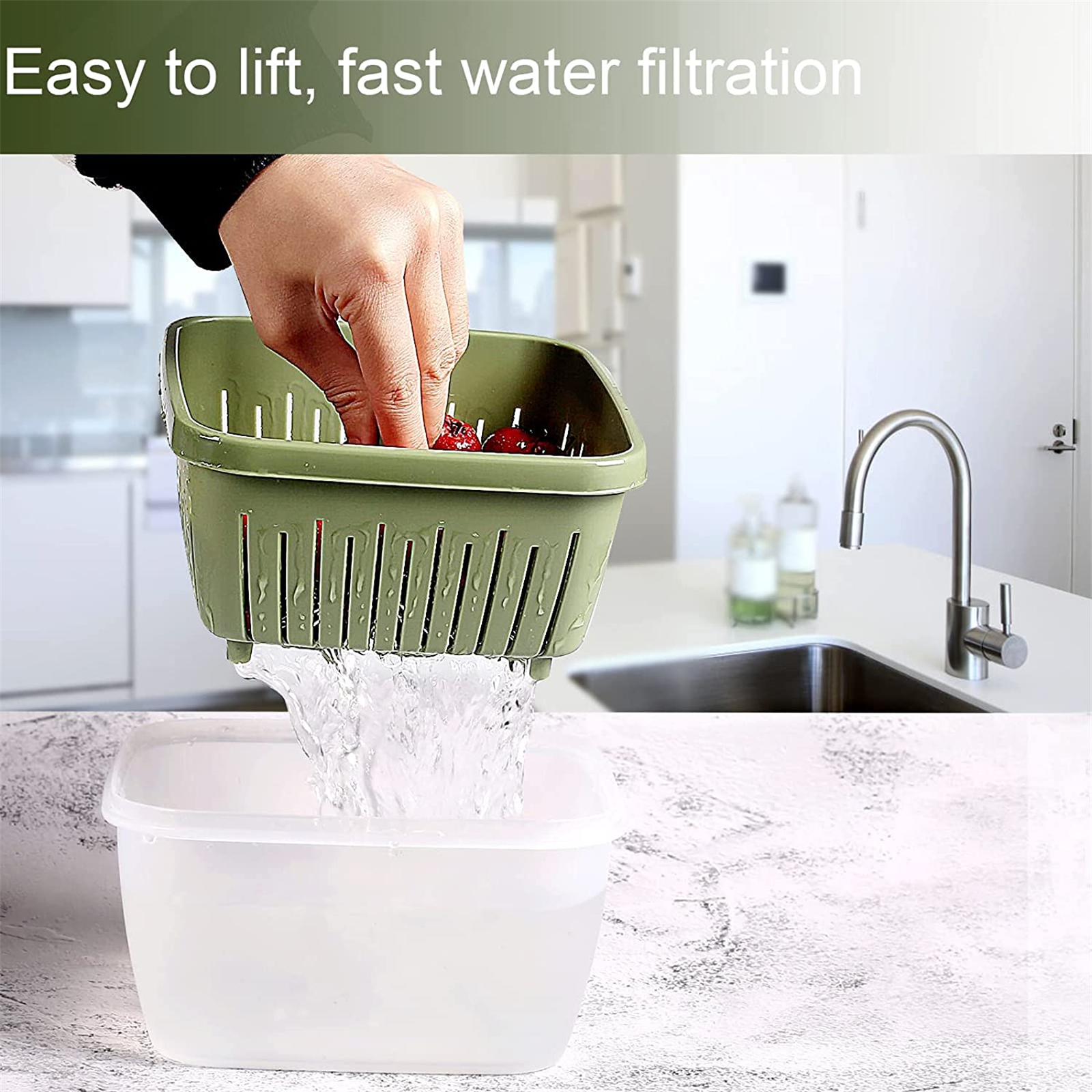 Filter the water.
There is a filter basket in our multifunctional box, when you have soaked the food, just lift our basket and you can enjoy the food, make food cleaning more convenient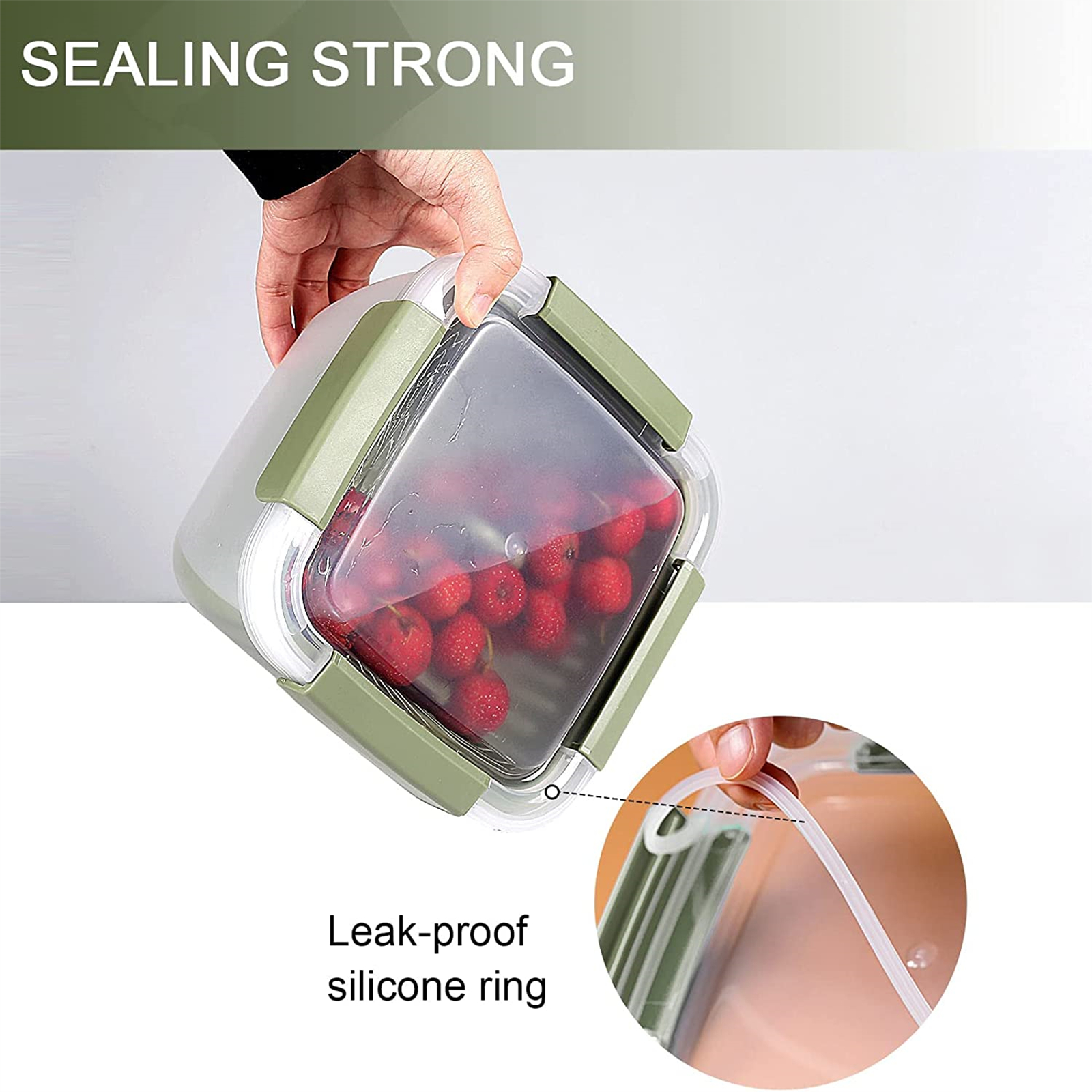 Sealed design
The locks on the four sides make it leak-proof and water-tight. This colander can not only be sealed, but also prevent water loss in food and keep food fresher.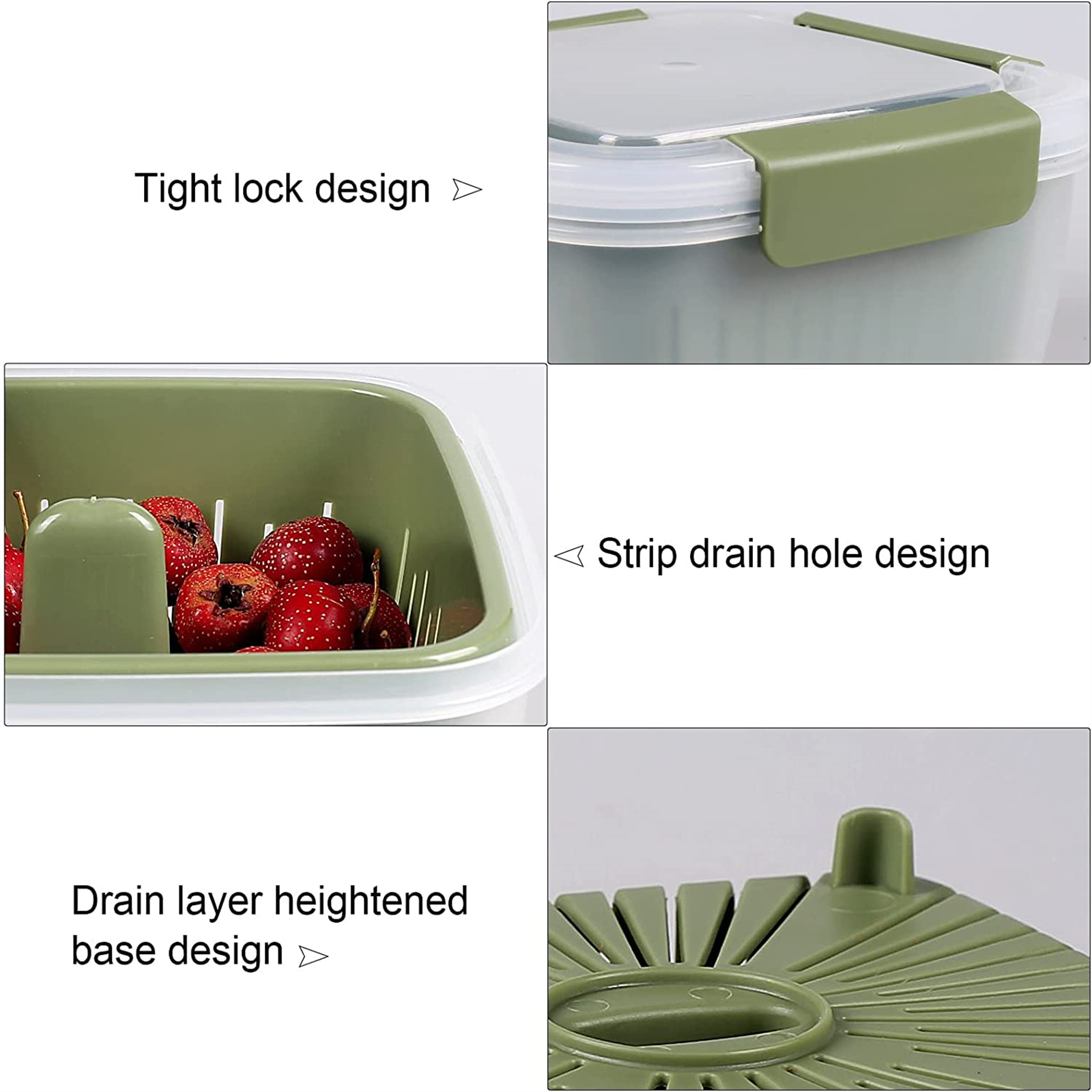 Heightened bottom design
It can prevent the food from directly touching the countertop when washing food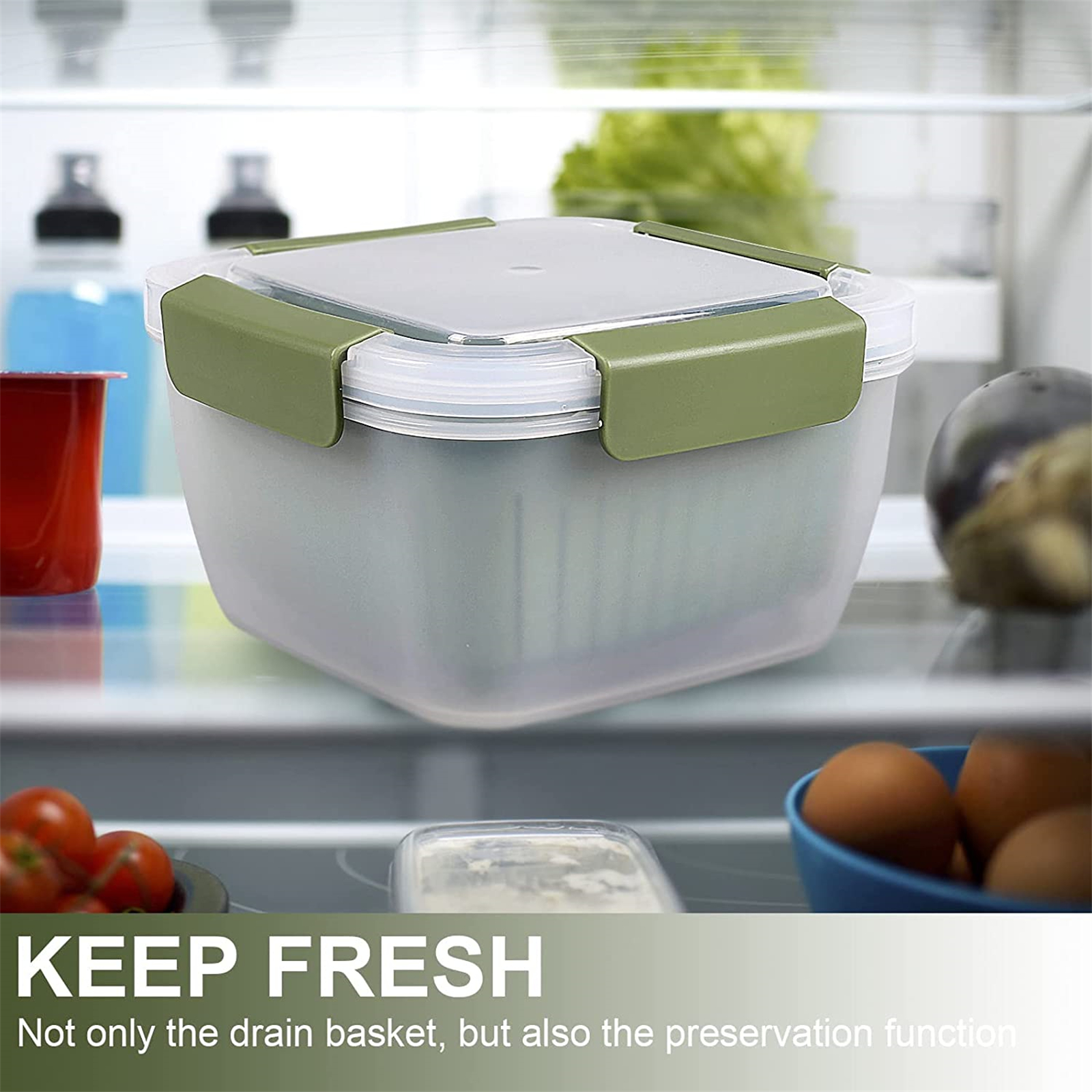 Easy to carry
Our multifunction box can be used as a basket for cleaning fruit, the lid can also be used as a fruit box, which is convenient

Keep your berries and fruits fresh. Get your hands on our berry keeper box containers now.