Divided plates don't always have to look plain and boring. Available in multiple pastel colors, Shopgreen's divided plates can elevate the look and vibe of your meals. They feature a deep and large design—deep enough to keep the food from spilling out. These plates are light, chip-resistant, and durable, making them suitable for kids, too.
❤COMPLETELY HEALTHY MATERIALS-- Made from bamboo fiber with grain such as bran and cornstarch. They are non-toxic, BPA free, phthalates free, PVC free, lead-freel, cadmium-free and food-grade. Safe and tableware are what we pursue today.

❤PERFECT DESIGN-- The rounded edge design makes our bamboo divided plates not harm children's hands and mouth. Deeper sides prevent food from spilling and they can be stacked well to make your kitchen more neat and beautiful.

❤PREMIUM QUALITY-- Compared to ceramics and glass, bamboo tableware is more durable and drop-proof. And healthier than plastic material. So our chip resistant and scratch proof kids dinner plate is your best choice.

❤EASY TO USE AND CLEAN-- Our kids plates with three compartment, food or fruit can be separated well. They are stain resistant and dishwasher safe. After each use just put it in the dishwasher for quick cleaning. Simple and convenient.

❤100% SATISFACTION GUARANTEE-- We know you'll love our high-quality dinnerware. However, we offer a full refund or replacement if you aren't completely satisfied with your purchase. For any question, please feel free to contact us.
As parents, we insist on offering our children the most natural and healthiest foods.
As a company, we insist on offering our customers the highest quality, healthiest products.
As a company specializing in kitchen utensils, we have always been committed to being Simplicity and healthy
Manufacture tableware products, produce from the customer's perspective for customers and sell what they need.
We do this for our customers.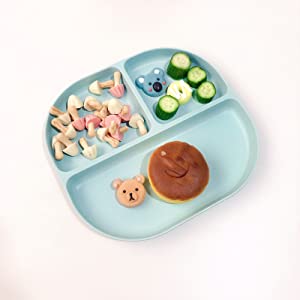 Good Material
Our children's plates consist of bamboo fibers, grain and corn starch. They are natural and healthy materials: non-toxic, BPA-free, phthalate-free, PVC-free, lead-free.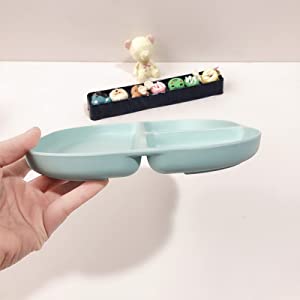 Light and robust
Light design and special material make our dishes more suitable for your children. They are durable, robust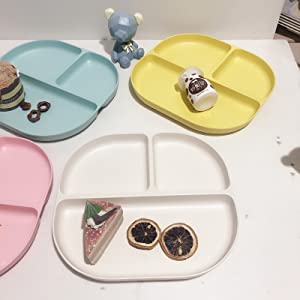 Easy to clean
They are dirt-repellent and dishwasher-safe. Just put it in the dishwasher after each use for quick cleaning.

Choose eco-friendly and modern-looking divided plates. Order a package or two today.