The Best Premium Non Toxic, Bamboo Plates for Kids
Because we know you care about what goes into your child's body, we meticulously and continuously test our plates through every step of the process, ensuring they're free from all the yuck often found in other serving dishes.
Divided plates don't always have to look plain and boring. Available in multiple pastel colors, Shopgreen's divided plates can elevate the look and vibe of your meals. They feature a deep and large design—deep enough to keep the food from spilling out. These plates are light, chip-resistant, and durable, making them suitable for kids, too.
Great Bamboo Divided Plates - Made from durable bamboo fiber, corn starch, blend with food grade melamine. BPA Free, great for both kids adults.

Easy to use - Dishwasher Safe and easy to wash by hand. Perfect substitute for paper or common dinnerware.

Round Edge Design - Don't worry about it may hurt your kid's hand and mouth. 4-compartments are able to hold different foods to ensure a balanced diet for children, keeping food separated

Guaranteed Quality - It's durable and sturdy, safe and secure. Versatile enough for everyday use and stackable for maximizing storage and shelf space. Great for home or outdoors like picnics, camping, BBQ. Great for Holiday, party, or children's' plates. Various colors are available to fit in any kitchen. They also compliment all styles of home decor.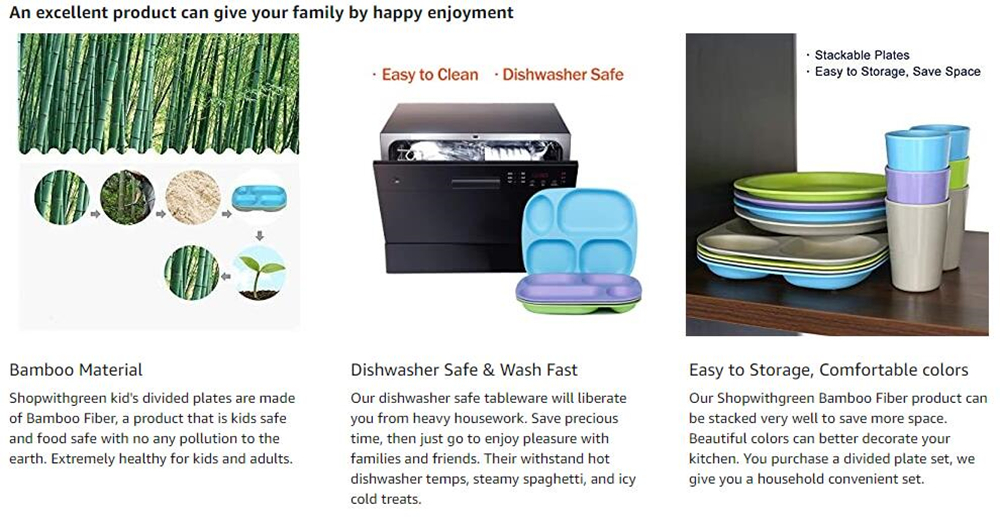 Choose eco-friendly and modern-looking divided plates. Order a package or two today.