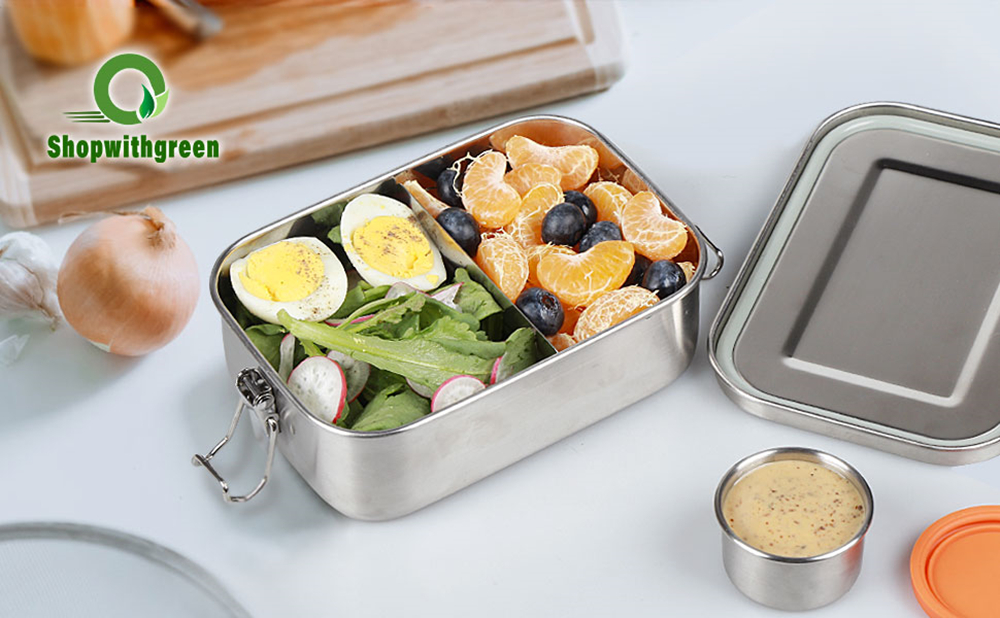 Features:
PREMIUM FOOD SAFE MATERIALS : Made of high quality food grade 304 Stainless Steel and food-safe silicone, it's BPA-free, Odor & Stain Resistant for On-the-Go Eating. A sustainable alternative to plastic. It's rust-resistant, stain-resistant, and odor-resistant, so your bento box will remain like new for a lifetime!

LEAK-PROOF LUNCH BOX: The silicone seal keeps the lid airtight so the salads, sandwiches, and more stay fresh on-the-go. Perfect for work lunches, mid-day snacks. It conveniently fits in purses, work bags, backpacks, and gym bags! (We do not recommend put liquid in box.)

BONUS DIP CONTAINER and REUSABLE LUNCH BAG: Our bento box comes with a extra dip container, which fits perfectly in our bento box! Add dips, dressings, and sauces to your meals without making a mess. Also our lunch set contains a cotton lunch bag, you can use it for school, work, outdoor, camping

REMOVABLE DIVIDERS: Removable dividers add variety to your food preparation, making it easier to pair healthy meals. Please note that our dividers are not leak proof, so only dry food can be divided.

USE IN THE FREEZER AND DISHWASHER – Our freezer friendly bento box makes it easy to save leftovers! And it's top rack dishwasher friendly! The smooth and durable design is easy to clean, with no nooks and crannies for food to get stuck in.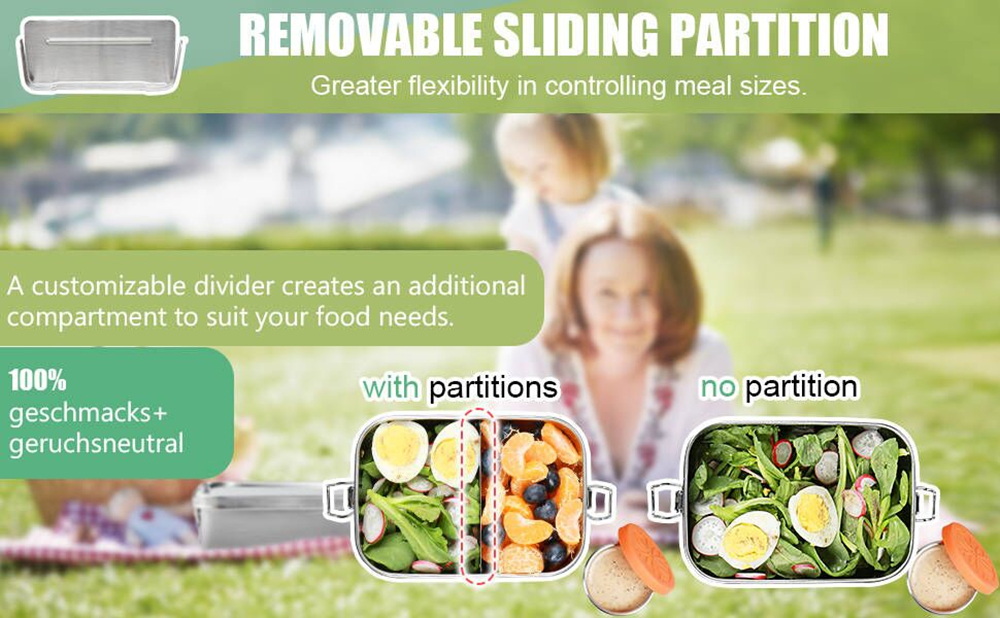 If you're tired of sandwiches getting smashed or fruit getting bruised in soft fabric lunch boxes, choose our stainless steel lunch boxes. We have two sizes for your child to choose from. Pack a hearty lunch for your child every day without using multiple containers. The best feature is the removable compartment to ensure that the food is not smelly, match different foods, and at the same time Dips come in our extra dipping sauce container. This stainless steel lunch box is compact and easy to carry on the go.
What you will get:
1* 40 oz Bento Box
1* Salad Containers
1* Removable divider
1* Reusable Lunch Bag