Make your meals safer and sleeker with Shopwithgreen's unbreakable dinnerware sets. Made of BPA free and food-safe PP plastic material, these dinnerware sets are eco-friendly, durable—the kind that impresses moms, eco-warriors, and more.
Our dinnerware sets are deep and feature smooth round edges, making them perfect for cereals, salads, noodles, pasta, rice, and fruits. They're lightweight and durable. You no longer have to worry about your dinnerware sets falling and breaking again. Plus, they come in an array of pastel colors. They'd definitely make your food snaps and mealtimes fun!
【Unbreakable, Lightweight & Durable】Made of BPA free and food-safe PP plastic material. So these plastic dinnerware sets are unbreakable instead of the conventional dinnerware. No worry about chips and cracks from dropping. Super sturdy and durable. Light to hold and safe to use.

【Dishwasher & Microwave safe Dinnerware】Not too hot when you take out from microwave. Temperature resistance reaches up to 120 ℃. EASY TO CLEAN - just with hot water and soap, the plates are clean in seconds!

【Why buy everything separately?】This unbreakable plastic dinnerware set includes 16PCS (4 x plastic dinner plates- 8.8" in diameter, 4 x plastic dessert plates- 7.8" in diameter, 4 x 24oz plastic bowls- 5.9"W x 3"H, 4 x 15oz plastic mugs- 3.14"W x 4.3"H). Each set comes in 4 beautiful colors. Give you a perfect set of matching designs and colors.

【User-friendly Design】Easy to stack compactly without occupying much space of your kitchen cabinet and disk rack, hence avoid toppling risk.

【Multiple-use】Suitable for Cafe, Restaurant, Self-service areas, Party, Kids, Home, Event, Patio, Poolside, Picnic, and other outdoor use, which are great altertives for traditional ceramic plates, bowls and cups. Suitable for kids, toddlers, children, adults.
Enjoy the wonderful benefits of unbreakable dinnerware sets. Order a set today.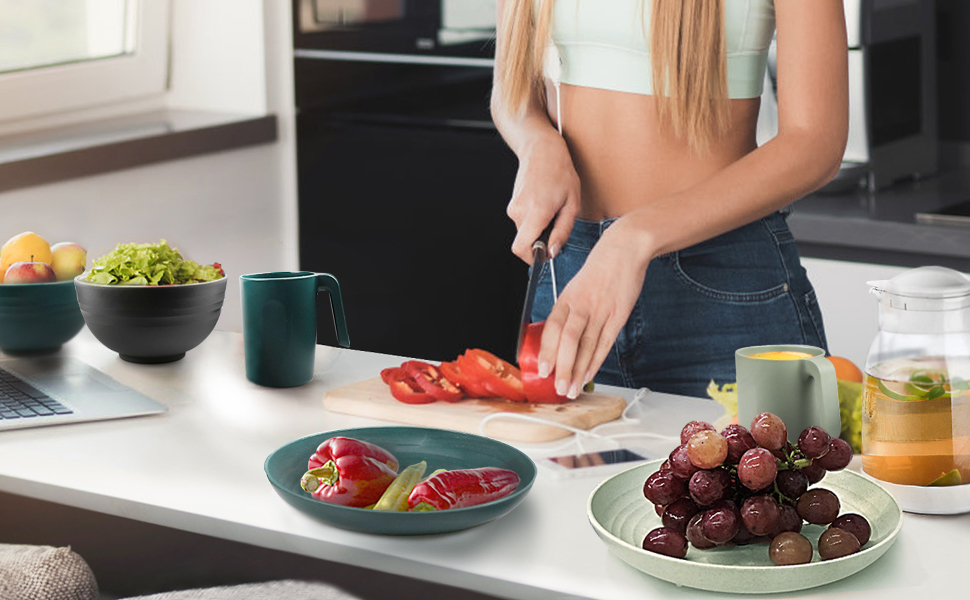 FEATURES
1. Made of natural PP Plastic material, BPA free.
2. Compared with traditional dinnerware that is heavier and easily breakable, these plastic dinnerware sets are unbreakable.
3. 4 colors design gives your pleasant mood when eating, not just dull solid colors.
4. Safe to use in microwave, dishwasher, and freezer.
5. Stackable, not taking up much space. The plates, cups and bowls easily stack inside of one another.
6. Can be used as a housewarming, wedding, and holiday gift.
7. Lightweight, convenient for taking it out, such as camping.
8. The variety of all 4 of these products in one set is the perfect all-in-one purchase!!!