[Wheat Straw Tableware] How much do you know about the environmentally-friendly wheat straw tableware that is popular now?  
Jul 15,2023 | shopwithgreen
Starch is a natural polymer whose output is second only to cellulose on the earth. It is rich in resources, renewable and cheap, and can be used to produce starch-based plastics through modification and plasticization. As an important category of bio-based materials, starch-based plastics have been successfully industrialized and applied. Starch-based plastic is a kind of plastic product made of starch as the main raw material, which is modified and plasticized and then blended with other polymers, and belongs to a kind of bioplastics. Starch-based bioplastics can be divided into bio-based plastics and biodegradable plastics.
Starch-based biodegradable plastic is generally a blend of modified starch and biodegradable polyester, which can be completely biodegradable, compostable and pollution-free, and the waste is suitable for composting, landfill and other treatment methods. Starch-based bio-based plastics are generally a mixture of modified starch and polyolefin (such as PP/PE/PS, etc.). Its environmental protection significance is that it can reduce the use of petrochemical resources and reduce carbon dioxide emissions, and the waste is suitable for incineration. These two materials can replace traditional petroleum-based plastics and are widely used in plastic packaging materials, shock-proof materials, plastic films and plastic bags, disposable tableware, food containers, toys and so on.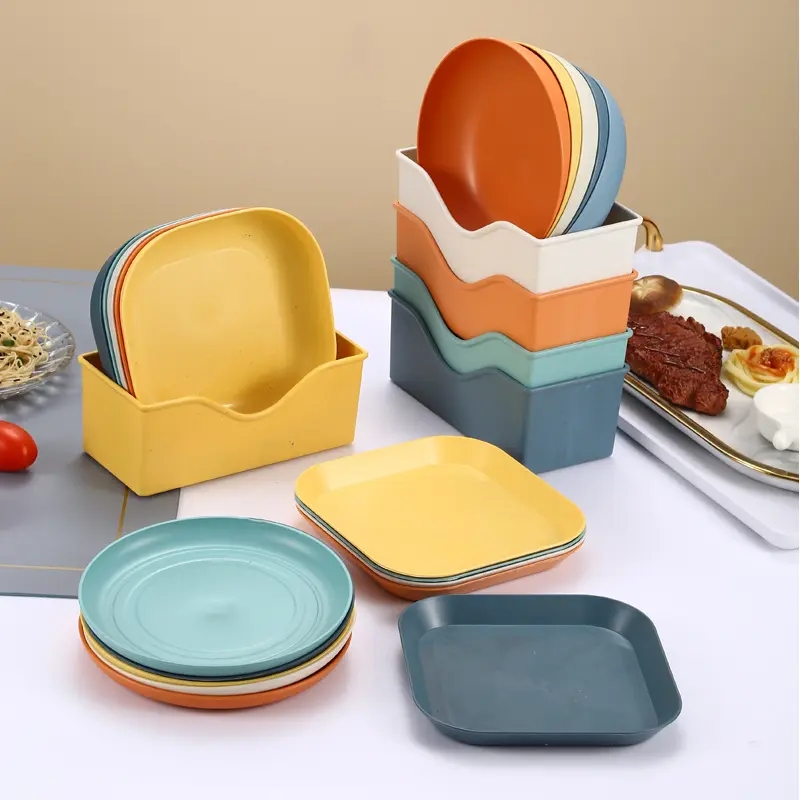 Recently, the environmentally friendly, safe and non-toxic wheat straw tableware has become popular on the Internet. Merchants have repeatedly emphasized and demonstrated its characteristics: "suitable for children, safe, non-toxic and healthy." These characteristics have undoubtedly attracted many people's attention. Many people think that straw tableware can replace plastic tableware one day and reduce the harm of non-degradable materials to the environment.
Nominally natural, healthy and cheap "wheat straw" flashes red.
If you search for "wheat straw" in the online store, you will get thousands of "treasures", most of which are cups, bowls, spoons, chopsticks, etc. In appearance, the colors of wheat straw tableware are very uniform, basically light blue, light green, light yellow and light pink. Some online stores with large sales volume only sell tens of thousands of wheat straw cups. In terms of price, wheat straw tableware is not expensive.
Wheat straw
In recent years, people have paid more and more attention to environmental protection and health preservation. White pollution is not only a big problem in our country, but also a global pollution problem.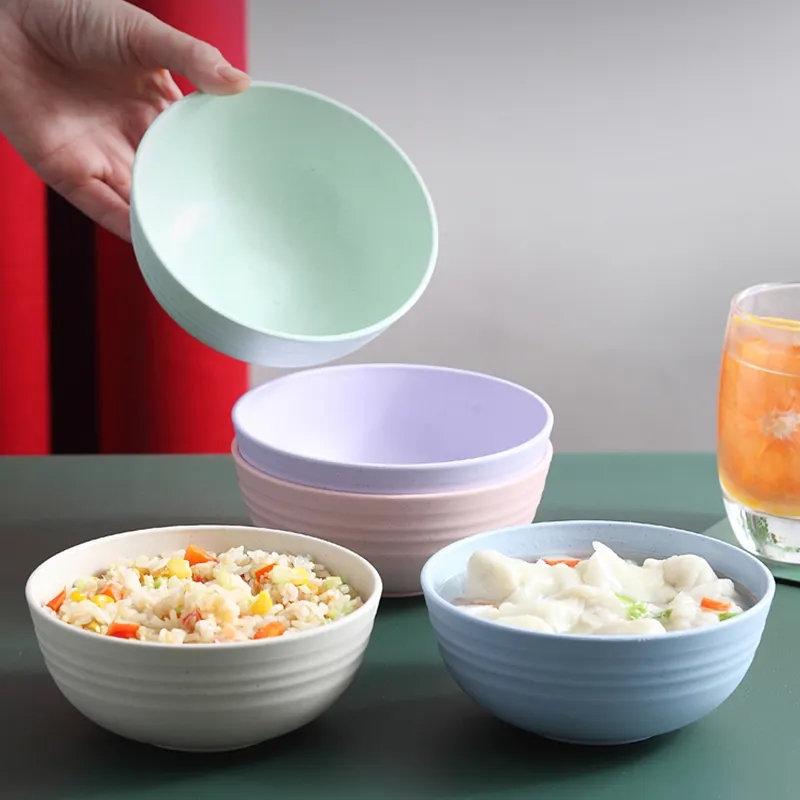 In recent years, an environmental protection material, wheat straw, has emerged. Widely used in tableware and disposable articles in daily life.
With the acceleration of people's life rhythm and the change of eating habits, the demand for disposable tableware is still growing further. The emergence of straw tableware has replaced the packaging materials such as plastic foam and paper currently used.
What are the advantages of wheat straw?
Tableware made of straw can be easily decomposed by microorganisms in nature, and the decomposition product is plant fertilizer, which will not cause secondary pollution. At the same time, make full use of waste straw in farmland, reduce the environmental pollution caused by farmers burning straw, and turn waste into treasure.
Making principle of wheat straw tableware;
Raw materials such as wheat straw or starch need to be added with some fusing agents if they want to be directly made into tableware. "Most of the fusing agents are PP (polypropylene) or PET (,so that the product can be formed after being added. Some substances will be added to this kind of tableware to ensure the normal use of the product. Of course, additives must be food-grade as stipulated by the state. "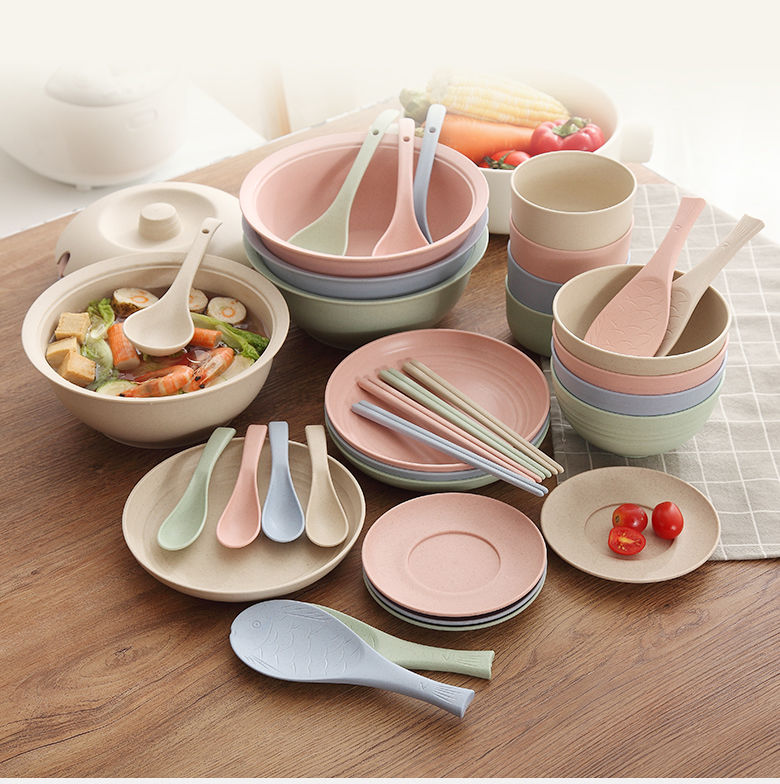 How to identify tableware made of wheat straw;
Wheat tableware belongs to natural ingredients and contains no harmful substances. It has no taste when poured into boiling water.
How to identify tableware made of common plastics;
Tear it lightly, it will break, smell pungent and choke your eyes, and it will leak easily when it is deformed by heat, with poor strength and dark color, and there is a serious water seepage phenomenon. Tableware made of polyethylene and polypropylene, such as restaurant tea trays, rice bowls and lunch boxes in fast food restaurants.
Now the country advocates the use of environmentally friendly tableware and non-toxic tableware, so polish your eyes and choose a real wheat straw tableware!
How to choose reliable wheat straw tableware
Recommend to everyoneShopwithgreenCompany,ShopwithgreenThe company provides the best household goods for every happy family, and it is a very trustworthy household goods brand. Products are sold all over the United States, Europe, Canada and Asia. They always adhere to the spirit of quality and humanism, so many people will associate its products with the healthy, environmentally friendly, safe and simple lifestyle in Europe.
ShopwithgreenThe company listens to the needs of various families every day. Therefore, both tableware and storage always emphasize the design concept of environmental protection, safety, practicality and simplicity. We believe that you can get the best products and services here. Moreover, if you have used their products, you will definitely be willing to establish a long-term and meaningful relationship with them.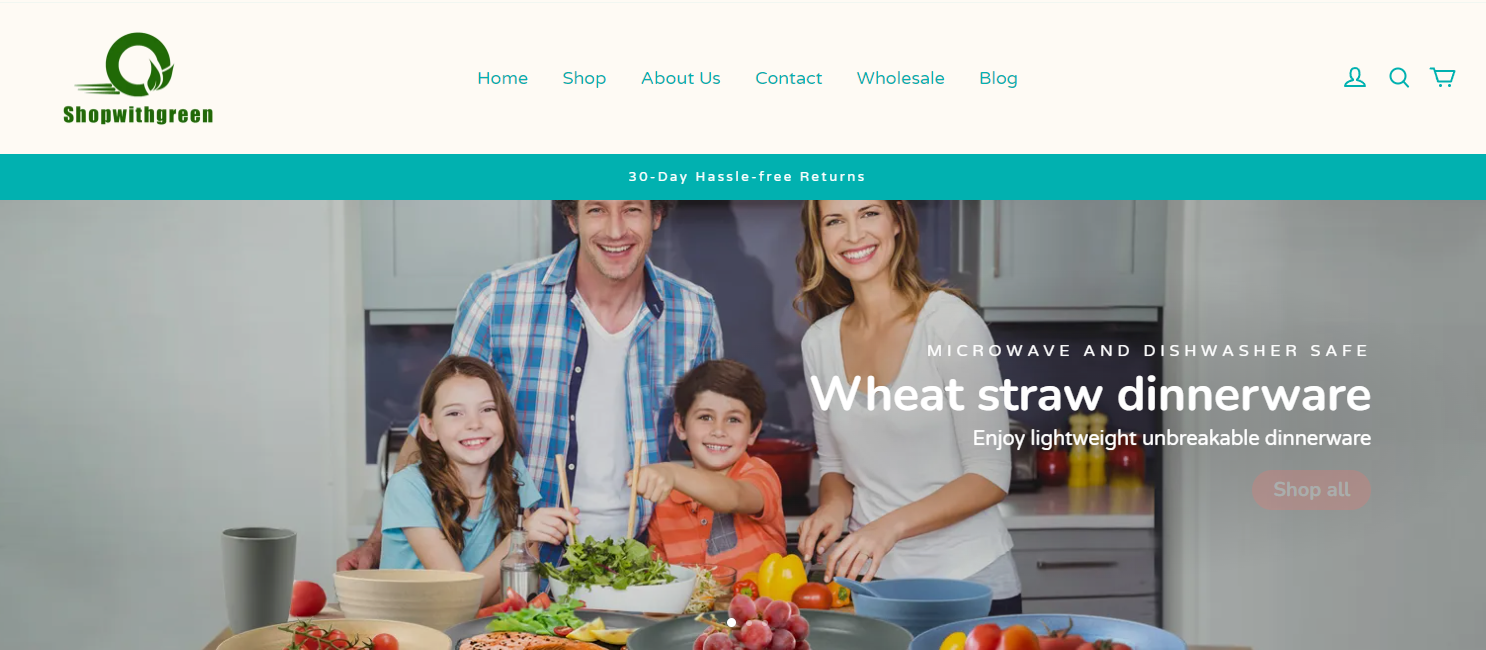 ShopwithgreenCompanies, not only do tableware retail business, they also do household tableware wholesale business, mainly engaged in products are:Wheat straw tableware、Children's tableware、Environmental protection tableware、Children's dinner plate、Children's spoon、Children's bowl、Children's fork、Camping utensils、cutlery set、Bamboo tableware、Plastic tableware、Lunch box、Dinner box、Fruit fresh-keeping box、Salad box、Nut box、Refrigerator storage box、Plastic plate、plastic cup、plastic fork、Plastic bowl、Cutlery set、Wholesale tableware。
Contact information:
Email:shopwithgreen@gmail.com
Comment