[How to choose children's tableware]What material should I choose for baby tableware? There are so many materials that I haven't seen before.
Jul 18,2023 | shopwithgreen
Silicone tableware
Good heat resistance. The temperature resistance of silicone is very good. It can not deform or change at a high temperature of 240 degrees Celsius, and it will not harden at -40 degrees Celsius, so you can use it for steaming, cooking, baking, etc.
Silicone tableware is easy to clean. Because the silicone does not touch oil and does not absorb oil, it is easy to clean.
There are many colors and shapes. Many colors can be arranged according to needs, which can create a variety of shapes of tableware.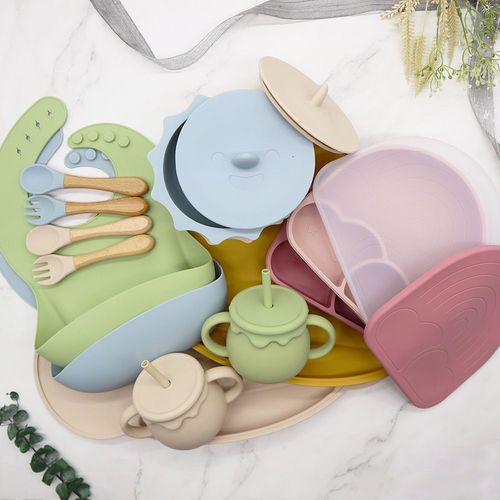 Stainless steel tableware
Advantages:
Stainless steel products are non-oxidized and corrosion-resistant.
Stainless steel products are not afraid of collision.
The stainless steel tableware has a good finish and a firm texture, and it is easy to clean up as soon as it is cleaned, which is conducive to keeping the tableware clean and hygienic.
Disadvantages: Stainless steel tableware has a single style and is not as colorful as high-end porcelain.
(Note: Please identify the regular 304 or 316 when purchasing, which can be tested with reagents.)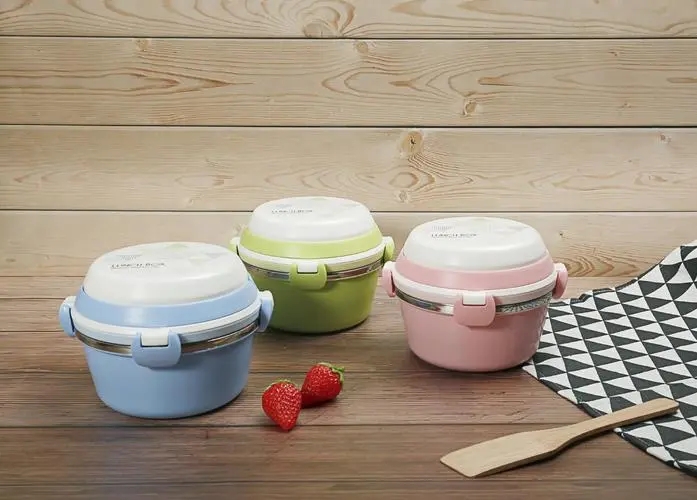 Ceramic tableware
Advantages:
Easy to wash and keep clean. The glazed surface of daily porcelain is bright and delicate, and it is easy to wash after staining.
Good thermal stability and slow heat transfer. The daily meal is not easy to burst when it is subject to the sudden change of heat and cold with a certain temperature difference.
Chemically stable and durable.
Porcelain has very few pores and low water absorption. When food is stored in daily porcelain and the mouth is tightly sealed, it can prevent the evaporation and penetration of water in the food and the invasion of external bacteria.
Colorful and colorful decoration.
Disadvantages:
Low impact strength, not resistant to falling and touching, easy to break, is a kind of fragile product.
It is not suitable for cooking utensils in an open fire.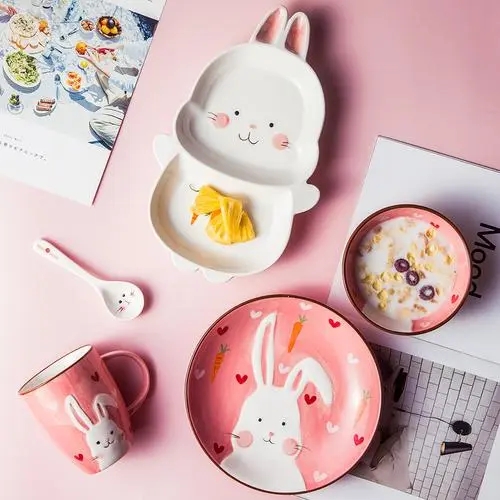 Bamboo fiber tableware
Babies can usually use bamboo fiber tableware.It is worth recommending。
Under normal circumstances, the bamboo fiber tableware is polished round and delicate, which will not damage the baby's hand skin. Moreover, bamboo fiber tableware is usually made of biodegradable bamboo, grains, etc. It does not contain chemicals and will not harm the baby's health, so it can be used by the baby.
Parents can choose bamboo fiber tableware with qualified quality, cute shapes and patterns from regular manufacturers for their babies.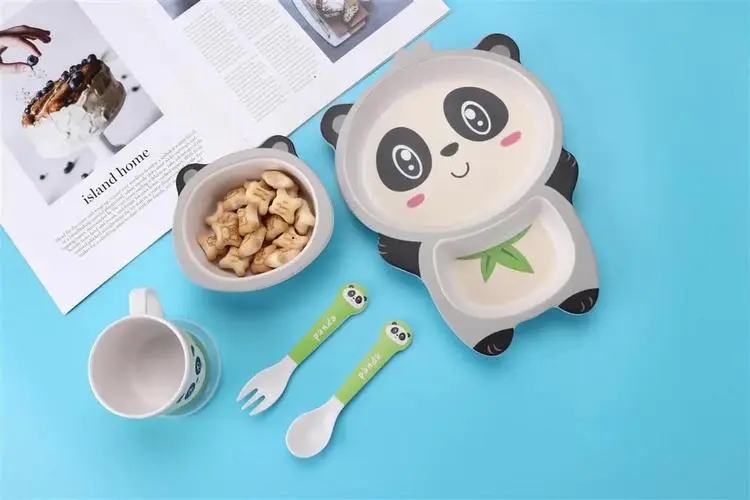 Resin imitation porcelain tableware
The melamine tableware is made of melamine resin, which is what we often call imitation porcelain.
Its raw materials are melamine and formaldehyde. As long as the production process is passed, it can be used safely when the temperature is not very high.
Moreover, this kind of children's tableware is not only good-looking, light, and fall-resistant. It is usually the first choice for many parents.
However,Unscrupulous merchants are crudely made for profit.!!!
Due to the high price of melamine resin, some bad merchants will use urea-formaldehyde resin instead of melamine resin in order to save costs.
Urealdehyde resin is synthesized from formaldehyde and other substances, and there will also be free formaldehyde in the products, and there is a problem of formaldehyde release during the baby's use.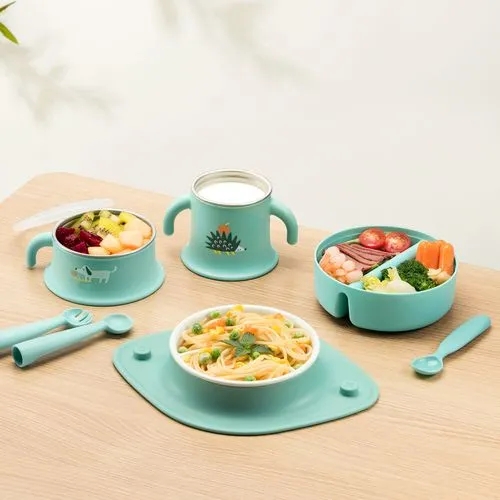 Plastic (pp) tableware
At present, most of the plastic tableware specially designed for babies on the market is made of a plastic chemically named polypropylene (PP). The temperature range of plastic tableware made of polypropylene is -20~120 degrees Celsius, which is not prone to aging in the baby's daily use and disinfection, and it is also very safe to use in this temperature range.
Plastic tableware for adults is not selected, because adult water cups may be made of PC, while PC, or polycarbonate, contains bisphenol A (BPA). Although it meets the production standards, PC resins are prohibited in infant products.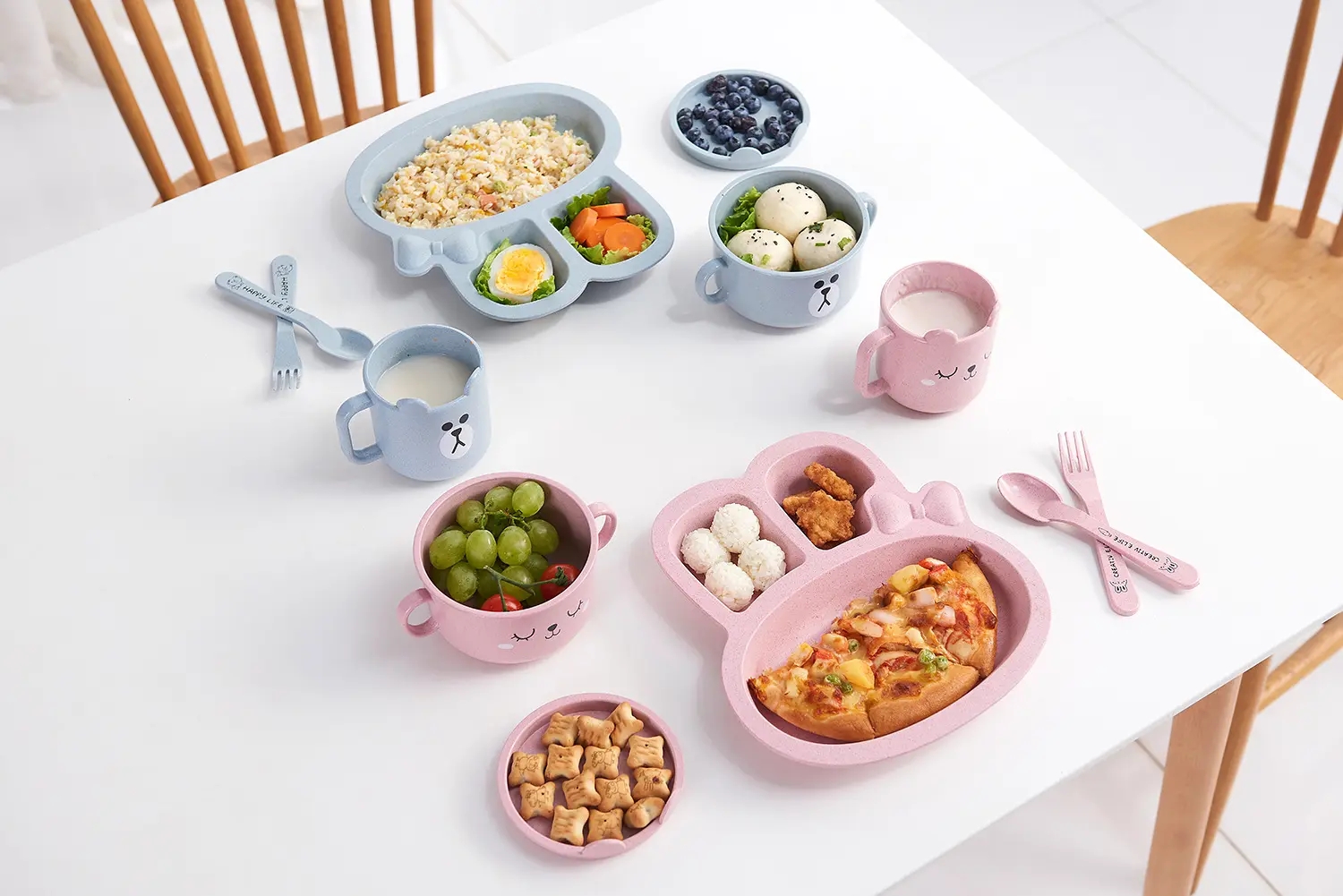 How to choose reassuring children's tableware
Recommend to everyone ShopwithgreenCompany,ShopwithgreenThe company provides the best household goods for every happy family. It is a very trustworthy household goods brand. Products are sold in the United States, Europe, Canada and Asia. They always adhere to quality and humanism, so many people will associate their products with a healthy, environmentally friendly, safe and simple lifestyle with Europe.
ShopwithgreenThe company listens to the needs of various families every day. Therefore, both tableware and storage always emphasize the concept of environmental protection, safety, practicality and simple design. We believe that you can get the best quality products and services here. And if you have used their products, you will be willing to establish a long-term and meaningful relationship with them.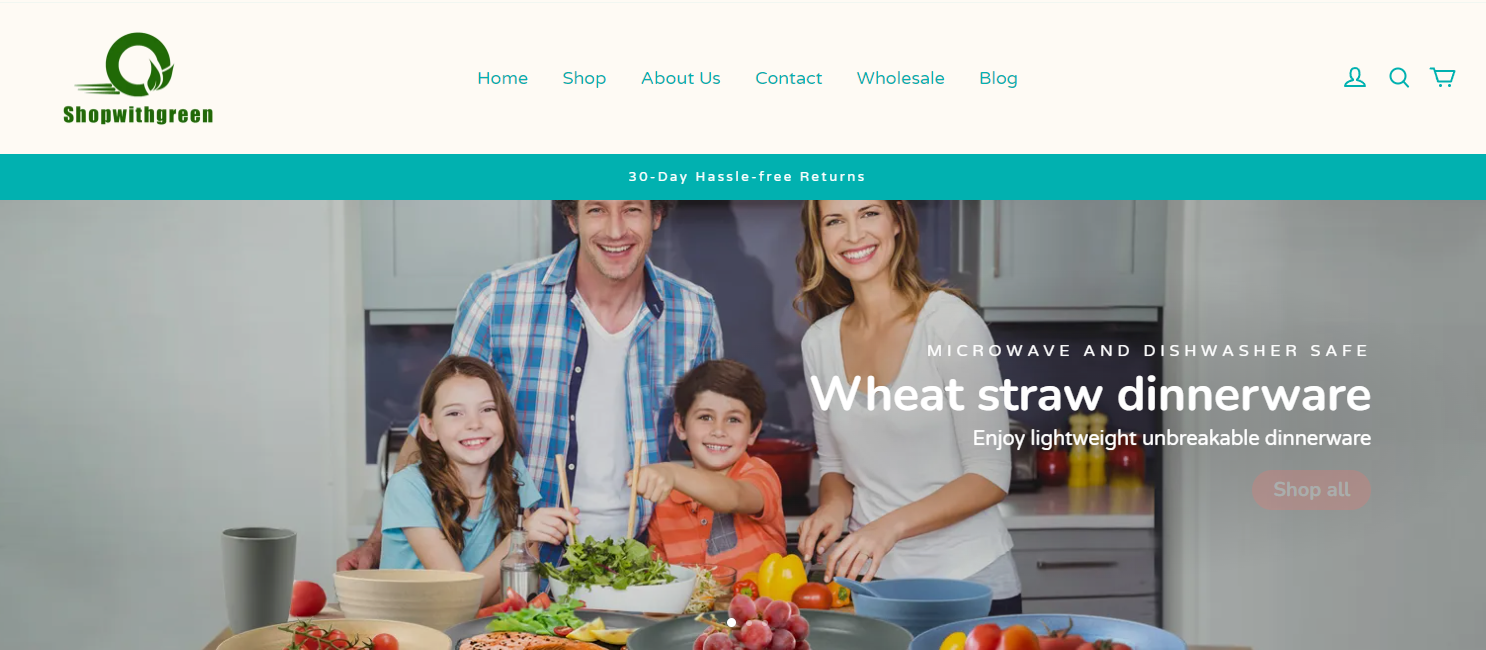 ShopwithgreenThe company not only does the retail business of tableware supplies, but also does the wholesale business of household tableware supplies. Its main products are: wheat straw tableware, Children's tableware, Lunch box, Dinner b Ox, Fruit fresh-keeping box, Salad box, storage box, Refrigerator storage box, dishes plastic, dishes and cups、Bamboo fiber tableware、bamboo dinnerware set、bamboo dish set、bamboo dishes、break resistant dinn Erware 、 camper plates, camping bowl, camping dishware, cereal bowl, childrens dinnerware, childrens dishes 、Chip resistant dinnerware、dinner bowls、dinner set、dinnerware、dinnerware set、dishes for kitchen、dish Es for rv, dishes plastic, dishware, dishware set, every day dishes, green dinnerware set, kitchen plate s Et、kitchen plates、lunch bowls、melamine dinnerware、melamine dish set、microwavable dishes、outdoor dinn Erware, plastic dinnerware, plastic reusable plates, silicone bowl, tableware set, wheat straw bowls, whea T straw dinnerware set,Wheat straw dishes, wheat straw plastic, wheat straw plates, wheat straw dinnerware.
Contact information:
Email:shopwithgreen@gmail.com
Comment